thilia
Fic:
Safety in Silence
by
Survivah
Reader:

thilia
Cover Artist:

thilia
Beta Listener:
nianfa
Fandom:
Teen Wolf
Ship:
Derek/Stiles
Rating:
R
Warnings:
AU, werewolves are known, soulmates, canon divergence, pining, love spells, hypothermia, cohabitation, truth spells, kissing lessons, possessed Stiles, cuddling & snuggling
Reader's Notes:
I lovelovelove this fic and have been wanting to record it for ages, and I'm so glad Survivah gave me the permission to do it. ♥
Summary:
It's perfectly understandable. Even Derek wouldn't want to be Derek's soulmate.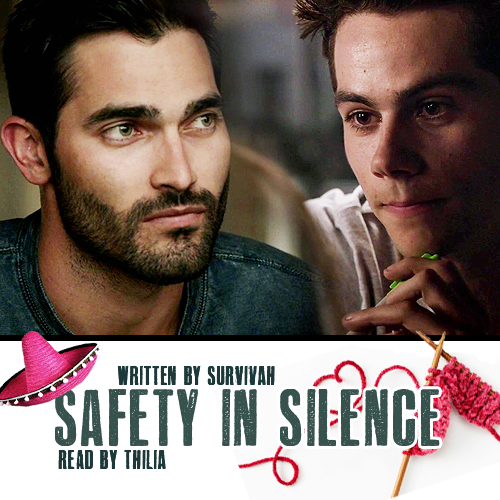 MP3
[389 MB, 07:11:31] (with music, one file)
MP3
[384 MB, 07:05:05] (without music, one file)
Podfic Post:
AO3
(contains links to the podfic in chapters in a rar file, if you prefer that to one big file, and details about the music)